Overlooking the wild and untamed Atlantic Ocean, at one of the "corners of the world", you find the Fogo Island Inn. The large, stilt-based inn sits on the largest of Newfoundland's islands and features an outdoors-enthusiasts wonderland.
            By: Jacob Greenwood. Photography via Fogo Island Inn.
Fogo Island is a small community that is still tapped into the untamed wilderness of the Canadian outdoors. It is an island that has been isolated from the mainland and left to the temperaments of coastal Atlantic life, steeped in unfathomably old history that can be felt.
"The spirit of cooperation is responsible for keeping Fogo Island alive through hard times," said Sandra Cull, the Community Hosting Co-ordinator for Fogo Island. "This philosophy of sharing and cooperation has remained familiar to local people and is embraced with pride."
The island is crisscrossed in ancient footpaths that allow visitors to hike through the landscape, bearing witness to all that the island has to offer. From the herds of caribou moving through the rocky fields, to cliffs scraping the sky. According to the Fogo Inn website the island is an "unspoiled wilderness, at once knowable and unknowable."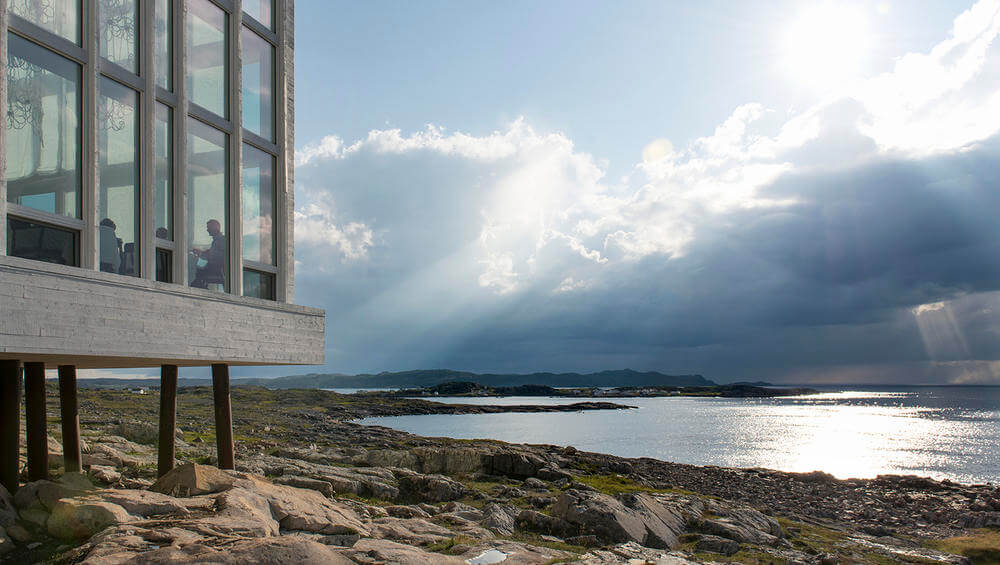 The Inn itself is nestled into this "unspoiled wilderness" and features as much to do inside as out, boasting 43,000² feet of spas, cinemas, libraries, and rooms. However, it can be said that the true experience of the island is to be felt outside. Hiking, boat expeditions, nature photography, fishing and berry-picking are amongst the multitude of activities visitors can experience outside.
The very concept of the Fogo Island Inn, according to their website, was to adopt a more gentle footprint when it came to interacting with the delicate ecosystem of the island where they built. The Fogo Island Inn website says that "we are deeply committed to and invested in all things local, and we consistently surpass the requirements of environmental laws."
Of the destination's unique design, Cull once again refers to the outdoor marvels it is surrounded by. "The Inn features stilt-like pillars that have a gentle footprint on the landscape and are reminiscent of the "shore" found on traditional wooden buildings of Newfoundland & Labrador that still persist throughout the province's outports today."
Fogo Island is not just a destination for outdoors enthusiasts, it's an exploration of how the outdoor and indoor can intersect. It provides an escape that feels as historic as it does removed from society. Perhaps those adventurous enough could decide to explore Fogo Island as your next escape.