Is an old tourism town situated on Saco Bay on the Atlantic. Still a popular summer beach destination I decided to visit well after summer had ended. The town was mostly deserted with the majority many tourist-oriented businesses, including clam shacks and T-shirt shops boarded up for the season. The wooden pier on the beach containing many other tourist businesses, including a variety of souvenir shops was likewise closed.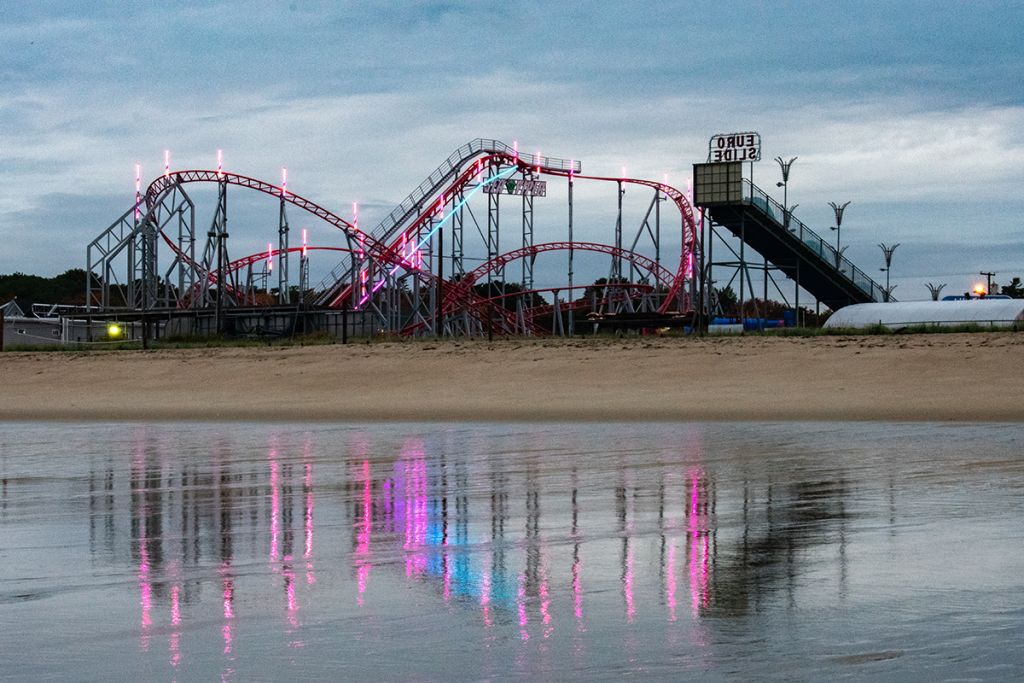 It was perfect.
I love these kind of towns when they are at their natural resting state – it leaves everything to the imagination and gives them an abandoned almost haunted feel. (All the gallery images shot with the Samsung S8 Phone).
Adding to the gloom a cold rain came down on and off both days I was in town.
In 1829 the first Public House opened. In 1837 tourists were paying a small amount to stay at a local farm while they visited the area. In 1942, trains could be taken from Boston to Portland. Over the years Old Orchard developed into a major resort. At one point, planes were able to take off from the beach, as well as, some automobiles racing on the sand. Most of the large hotels were destroyed in the fire of 1907. The oldest hotel still standing on the beachfront in Old Orchard at this time is The Ocean House Hotel & Motel, circa 1895, located at 71 West Grand Avenue. It retains its original parlors and character.

From Wikipedia, the free encyclopedia
I also learned that at one time a train ran directly from Montreal to the area to serve the demand of Canadian tourists.
Pier at Old Orchard Beach
Three versions of the Pier were constructed by people and modified by nature. The first, 1,770 feet (540 m) long, was built of steel in 1898. When the ribbon was cut on July 2, 1898, it was a "global cultural icon," at 1,825 feet the longest steel pier in the world, created by Berlin Iron Bridge Co. at a cost of $38,000.[16]At its end was the Pier Casino, a ballroom with room for 5,000 dancers. Shortly after its completion a storm reduced its length by 150 feet (46 m). It was rebuilt, but 10 years later, after another storm, the pier was shortened to 700 feet (210 m) and the Casino was moved. In the interwar period, the Casino hosted such acts as Guy Lombardo, Louis Armstrong, Benny Goodman, Xavier Cugat and Frank Sinatra. After the war Old Orchard became somewhat downscale, becoming known as a destination for blue-collar partygoers. A fire in 1969 destroyed Noah's Ark, the two carousels, the Whale's Mouth, the Mine Ride, and the Jack and Jill slide. The Casino was demolished in 1970. The current incarnation of the pier was built in 1980 after being destroyed by a blizzard in 1978. The current structure stretches 500 feet (150 m) into the Atlantic Ocean. The wooden walk way is lined with souvenir shops, carnival-style foods, and a night club at the end of the pier.

From Wikipedia, the free encyclopedia