Snowshoeing is not new to me let's call it reintroduced….
So striking out and up an even, a relatively small, mountain may not have been the best way to get back into things. But there I was early on a crisp Saturday morning in late February staring up the side of Mount Jo 877 meter (2,876 feet) of ice and snow waiting to trip me up in one way or another.
My hiking partner for the day, Dana, was her usual buoyant, encouraging self and so soon enough after a quick stop at the Adirondack Loj for water and the use of indoor plumbing facilities we were on our way.
My intent was to go without snowshoes as long as possible as I was not sure that I'd be either functional or physically capable of using them. The way up turned out to be quite doable in my winter hiking boots despite a dicey and icy looking ladders near the peak.
The 1.8 mile loop trail is rated as moderate and even on well packed snow was quite enjoyable both on the way up and down. The views? Spectacular. The peaks of Wright, Algonquin and Iroquois are their in all their grandeur.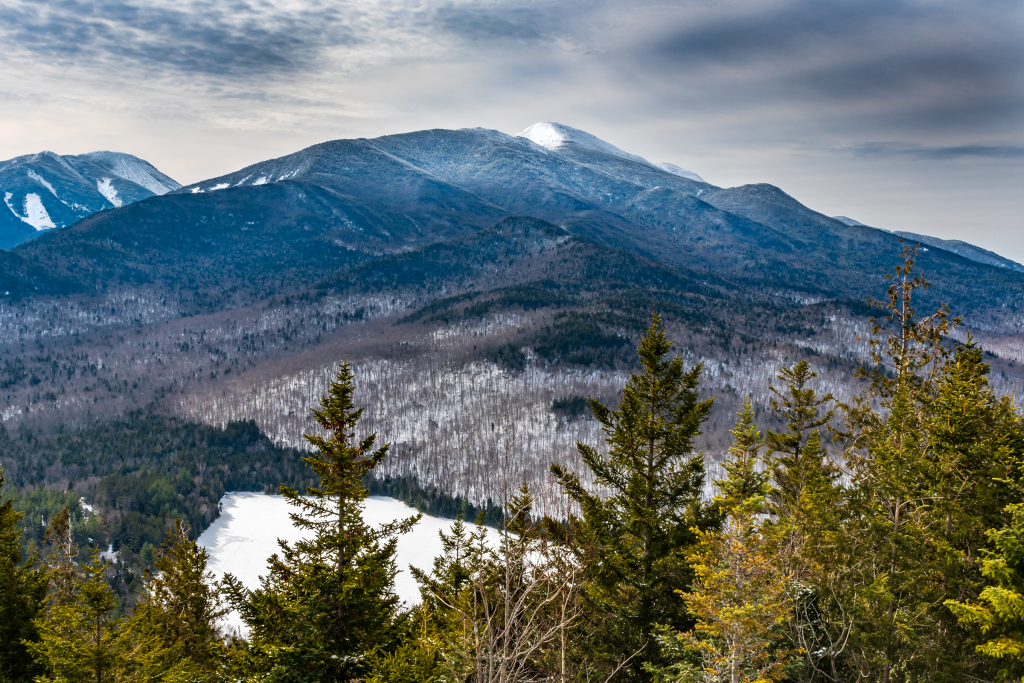 A fabulous view to start the day and a major accomplishment as well all before 10 am. Next question? Where to next?
In her usual optimistic way and with her best hiking sales pitch, Dana gets us on our way to Avalanche Lake… "You'll thank me for the pictures…" It's not so much a sales pitch as reverse psychology as I was carrying a new camera.
The parts she left out – 16.1 kilometers round trip and an 407 meter (1,335 foot) gain in elevation – but she had me at pictures and she knew it.
Back past the Loj and 3.5 kilometers to Marcy Dam on relatively flat terrain with a slight upgrade (about 80m gain) not so bad. Having worn micro-spikes down the mountain on the first kilometer or so I was feeling good and really enjoying the hike.
It was about that point we met a state park ranger, we had just crossed into the state park, who informed us that we had to wear snowshoes. I'd seen a sign but interpreted as you must have snowshoes or skis with you not that you had to be wearing them.
On go the snowshoes and the pace, actually more the gait and the weight change is noticeable immediately. They're not uncomfortable just different and definitely you notice them.
At Marcy Dam we stop for lunch which is quickly shared with the chickadees who have learned the tourists will share food in exchange for cuteness.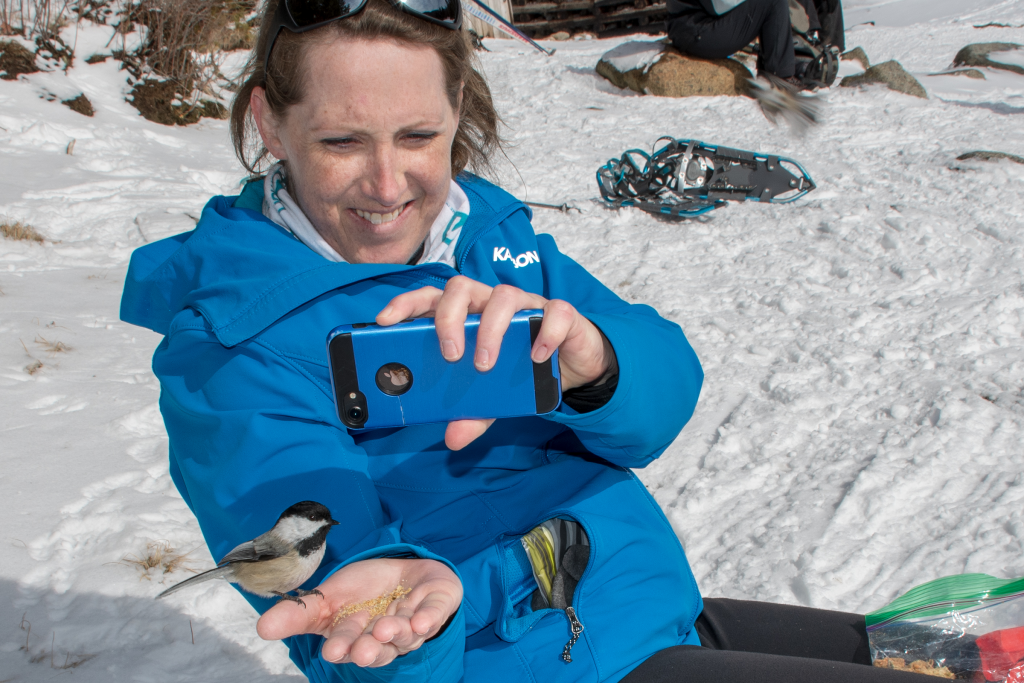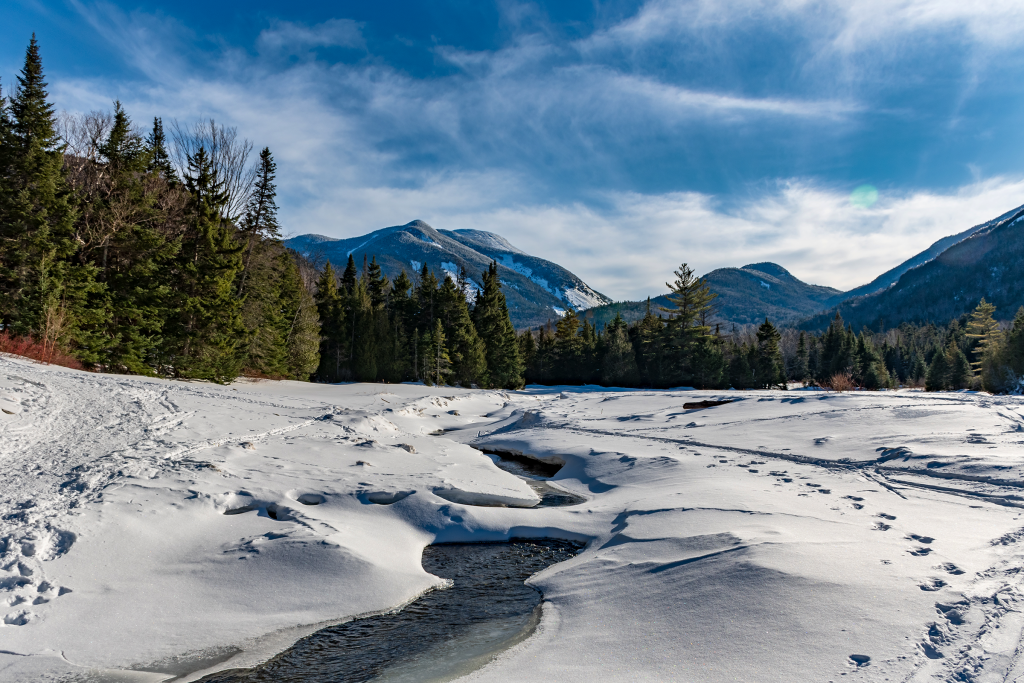 We're soon back on our way with the next 1.5 kilometres bringing another 80 meters in elevation gain as we hike through cedar and pine forest just enjoying the day and meeting a ton of skiers on the way. We found later there was a skiing event being held that weekend.
The next 2.5 kilometers to Avalanche Pass an animal of a different nature. About 200 meters in elevation gain (about 50 meters higher than our morning mountain) and quite an effort in snowshoes, despite heel lifts, and words of encouragement.
Some snowshoes offer heel lifts for climbing steeper terrain. Raising the heel lift bar reduces calf fatigue by keeping your foot more level, and often improves traction while climbing by weight pressuring the rear traction. 2. Keep your weight on your forefoot, and use snowshoe poles for added balance and support.

Snowshoe.com
All of which is true. I also found them a little annoying and the cause of a bit of heel pain. The subtle words of encouragement were more important.
The reward? Avalanche Pass was a spectacular slice through the mountains covered in sun speckled ice clinging to the sides of a crevice. One of those wonderful places that leaves you feeling wonderfully small.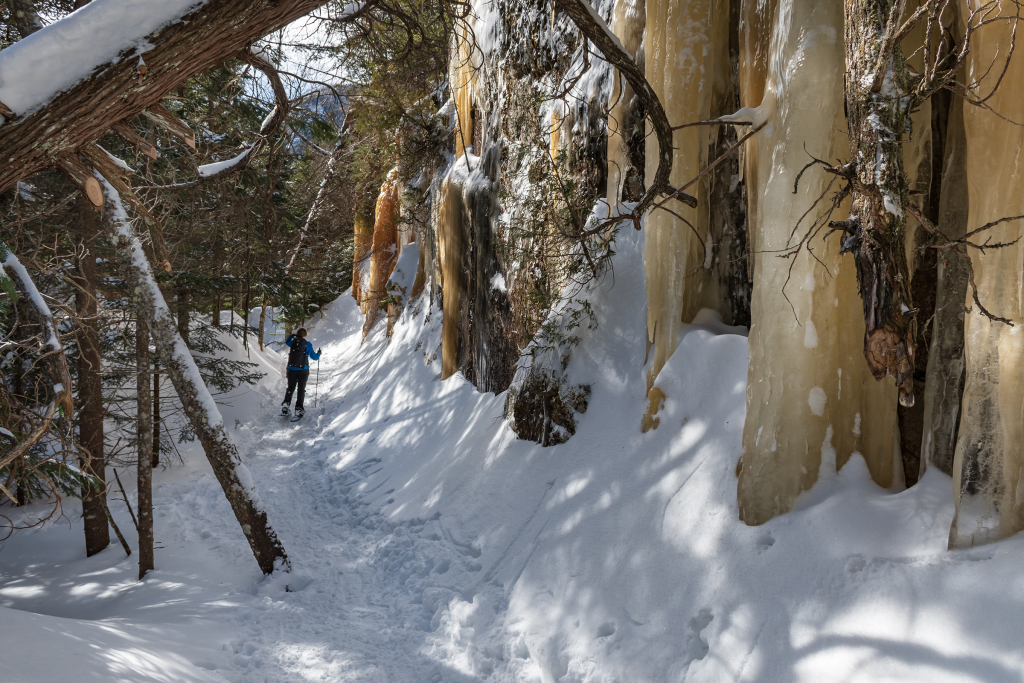 From there it's downhill to the lake itself and the sights there were just as awe-inspiring. Starting with the very first view, a sun-filled sky and ice covered cliffs on both sides of a long narrow fjord-like lake.
About half way down the lake covered you across Trap Dike a vertical slah running up to the peak of Mount Colden. Unlike Robert Clarke and Alexander Ralph, who way back in 1850 made the first known ascent we have no intent of climbing it on this day but do watch some others preparing for the snowy, icy climb.
All that is left now is to make the hike back to the truck…. later that night my quads let me know it was a good day.